About Me
*Author's note: This is an early draft simply to add content to the site.
Hey,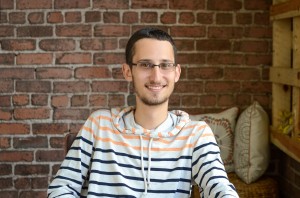 I'm Matt Arkin (though in situations where there may be more than one Matt, feel free to call me "markin"). Coding, building things, and helping people are my passion.
Some of my general interests includes payments. We have a large portion of the world just now gaining access to computers and to lines of credit, but how can we make a largely cash based set of users digital? Another area of interest in payments is how can we make it easier to send funds to one another? When its faster for me to walk to one bank's ATM, withdraw money, and deposit it into another bank's ATM, something is broken.
Some cool projects I can publicly say I've worked on:
Tippt – A Bitcoin based tipping platform for content producers. (Built using Stripe's Bitcoin beta)
Ikescopter / Manna – A drone based food delivery platform.
Commence – Accept payments with only a couple lines of html.
I've been published!
The Globalization of Knowledge: A look at Khan Academy
Some of my profiles on other sites:
Github – Note: most commits are to private repos
LinkedIn
You can also find me on IRC, I'm normally markin on #stripe in freenode
Think I'm awesome? I accept donations/tips via bitcoin https://www.coinbase.com/matthewarkin
Email me: [email protected]
&npsp;
Hire me on Upwork: Profile
PGP Public Key:
—–BEGIN PGP PUBLIC KEY BLOCK—–
Version: GnuPG/MacGPG2 v2.0
Comment: GPGTools – https://gpgtools.org
mQENBFPpkOEBCACuP6A3KrKIXr4bgHlaG3oc8EDG0yj0tyCqFYGmgo0wpjI2JVGo
LJXmmCCtZNoDzxfuWnxapJIg6ObrCe6EVWcRGrYbGEWITlgdPpl98ZIKSE8fjFMm
cOmFQTa+sWEwYiSHbKekNOuPRJdaJDaKpxs/lQx+ovsDvQ9FcGtYM9qy8Y5/9CZx
8kcR86J6yfJIsFr8lnjxS7Qw4RUKwHDfJRpaaSymg57t/uJEAtiKr8DJaEsJV4mo
zgqkDWNkw0ZXmYFuyxGHaEchB3Ipy3Gm7rQKbjmhR0F/VfkyAIZVbFl+j3Ch+so+
SRM02gB0RvdV5IlNg6sqz9HV6WtDHh0vgZVdABEBAAG0JE1hdHRoZXcgQXJraW4g
PG1hcmtpbkBrb2xsZWN0aXZlLml0PokBPQQTAQoAJwUCU+mQ4QIbAwUJB4YfgAUL
CQgHAwUVCgkICwUWAgMBAAIeAQIXgAAKCRCkczFgaCHTxdEpCACnhzn53GCwXvw0
8DDl12EY8THkwfqxLp8+Cpr+cyepFu+5sraJgsMzbxODMzlCqEhVfLp5f6X2Rc4Y
QtPazzawSvVVkutqdToxD+FLQ7VoBngXoJEt+X/3pfZzSUm1i9lyq3OPNA77aB96
dBK9Sa4T8cDJmfkKvXsFoO5q2mxVyYufG1D31ztyw/EtksXm2qj4d3FteFYZFvU3
xdiBZDPvPktQbBiAY//C9w0pQkSRQQkeoyj+C4v5nNnrQ4g4KA7wQoejAbZTRCh8
v6ooF9q8ZPMizFS9PvbzTkUw/pPcA6eSwMRLbYiXi9A2U7fYfaYy4UDJr4IX04LJ
iSENVzxzuQENBFPpkOEBCADUMolLxmPp/55jHGGICaeVnKWhKLtod1rfzSCwmoHX
aCHu179QlzdEmcD8nVKCQIaGl8BRgnUFd4p78tzKzs30q03n0fsD0zX61uf5pzOJ
jNID2kvCRkI7LcWOAngfCF/ogcX39qYHGODqSJU+mh3D7NkBx5a1oE4HsqejdabJ
cxpvjEEQsO9UsAAbOlDrKk7xjBEfS2j3swcbaIWlD28FwL9vvtQ4W6oBAGZCMlOG
qa8yZMyCGu4Y1rJizvNi1oFzBapOxuHrQB3qOIzUBQK0YmwxRkH11rQgUcM4elJd
IgV8FT/9D2HEwIUOSIB2XyS8vjadjj6P7Sw6e3IbvbrdABEBAAGJASUEGAEKAA8F
AlPpkOECGwwFCQeGH4AACgkQpHMxYGgh08Vgxgf/QzAHXvUACa0z6lH1FAH1pHTI
eLlqmPHsFo3COscS6Ebh4SluxJBY1z4r8BkllGOD/h+kQ91ZcYlM/rbqdNBKCWWV
mYShVyKLNTYlrzKq4SzJzcLL+Dhbme+yXSeA3yve+nWpJnWv5GlzyiATHIfvT3zc
8Cu6+ZnWCYBoEfh59VbdzQfJt4EBERXf9gIwYC+4BynT+4xH1rjBscYN40ZfE5oI
hqSTBBsFCGOrbzSGipWYuZqipqzgvL/GpyxcKHEuqtwFhSyZHVr/5MilaVVoFMgh
Sy2bDv6yhf/8u/k1fi2Il/Nvn9jn/i5JkyZCmbCXysS6xvb648BkVt1zlbIMSw==
=LkII
—–END PGP PUBLIC KEY BLOCK—–